I bit the bullet and bought a Ninja Woodfire Outdoor Grill, and color me impressed! This portable, lightweight unit is a powerhouse of heat, smoke, and flavor! I've started creating recipes to cook on this little unit, and boy, is everything delicious!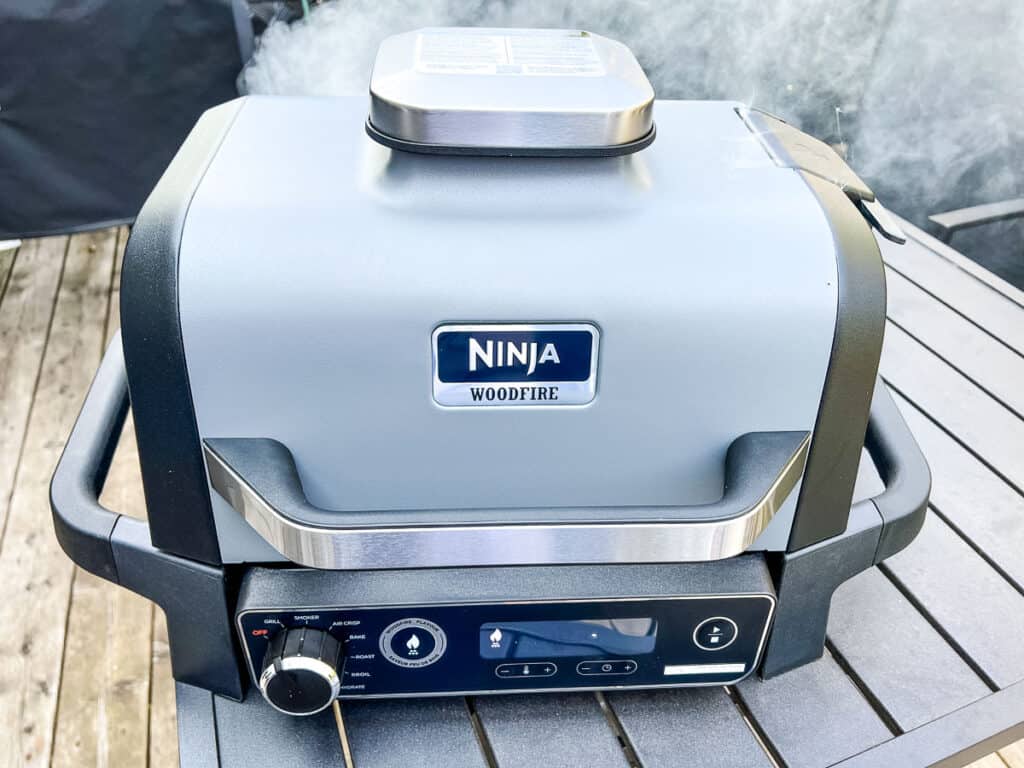 This post may contain affiliate link(s). As an Amazon Associate, I earn from qualifying purchases. See Disclosure.
I'm not going to go into a lot of detail about this unit because you can read all about it in this post where I talk about the features and so on. In this post, I'm going to cover my personal experience using the unit, and why I love it.
LIghtweight & Portable
I love my Traeger pellet grill/smoker, my 36-inch Blackstone, and my full-size Broil King grill, but this little Ninja Woodfire Grill has what all of those don't: portability. I've already had it at a school function, and I carried it off to a friend's house. There was lots of bragging going on to this friend, who doesn't have a grill or a smoker or a griddle. She was certainly impressed that this little unit can do all of those things!
How Much Does a Ninja Woodfire Outdoor Grill Weigh?
Ringing in at just 31 pounds, it is heavy enough to be substantial and not blow over in strong wind, but it's also light enough that we can pop it into the back of the van and take it wherever. And it's got two sturdy handles – one on each side – so it's easy to move around.
My Ninja Woodfire Grill LoveFest
Don't worry, this is a family-friendly blog! But I just can't stop talking about this grill and smoker and air fryer to anyone who'll listen. Let me break it down for you with the functions I've tried:
Grill
This is an electric unit, so it gets hot! I would wish that it would preheat faster, but you can always hold down the start button to jump the preheat and start the timer. I've grilled burgers, chops, steaks, and hot dogs, and they've all cooked quickly and fabulously. You don't get the good, hard grill marks that come with smoke and flame, but there are grill marks, and the evenly distributed heat across the grill pan sears the outside of the meat and locks in the flavor.
Smoke
Ninja offers 2 kinds of pellets – mild and robust. They are both blends, with the addition of hickory to the strong pellets. You load about 1/2 cup of pellets into the hopper on the side of the unit, and fire it up. It does take a few minutes (5-10 minutes-ish) for the pellets to ignite and the smoke to start. Keep the unit well away from open windows on the smoke function because, boy oh boy, does it smoke! The smoke does die down a bit after the initial ignition sequence, but it is still very smoky.
I have done quick smokes, and there's been no noticeable smoke ring but plenty of smoke flavor. In fact, there's more smoke flavor compared to my Traeger full-size pellet smoker. So when you want something that's VERY smoky, this Ninja is the appliance for the job.
I will do a long smoke – got a nice piece of pork butt, and will report back on how it does over a long smoke.
Woodfire Grill
By far my FAVORITE setting, this is grilling with the addition of smoke. It takes longer for the grill to get ready because first, it goes through the smoke ignition process, and then it heats up the grill. Give yourself 20 minutes for the grill to get ready for food.
But holy moly, the food is GREAT! You get quick-cooked grilled eats with the addition of smoke flavor. I loved that the hot grill plate sears in the juices, and the smoky flavor was in every bite.
Air Fry
OK, so this seems like a throwaway function, but it DOES do a good job of air frying. We did fries, of course, and they came out crisp and just right. I am curious about the add-on combo air fryer basket that grills and air fries at the same time. Really? I guess I'll have to try it to see how it works.
Other Functions
This Ninja Woodfire Outdoor Grill also has settings for bake, roast, broil, and dehydrate. It's basically a portable outdoor oven and can do all the things your indoor oven can do. I've not tried these other functions but I'm guessing they're just variations on grilling.
Optional Accessories
I will buy the griddle plate because I think this is the perfect tool for making pancakes and sausage and other breakfast eats when we're away camping. I can't wait! You can also get:
Combo air fryer-griddle basket – I am curious about adding smoke flavor to fries.
Stand – Convenient if you don't have a sturdy table to put it on.
Cover – Must have a cover unless you want to carry it under cover after every use.
Pellets – It comes with a sample of both mild and robust pellets, but you will need more. It does warn you right on the unit to only use Ninja brand pellets.
Griddle plate – Perfect for making pancakes for the whole family!
Carrying bag – Sling the strap over your shoulder and carry your grill anywhere!
The Final Word
I love writing about products that I truly love, and this review of a Ninja Woodfire Outdoor Grill was fun to write! I'll have lots of recipes coming, by the way.
In the meantime, if you love outdoor cooking but don't have the space for a full-size grill or smoker, or you just like the convenience of a portable unit, then this workhorse is for you! If you're on the fence about it, let me remind you it is portable, inexpensive, easy to move around, and gives great flavor to anything it makes! Want more detailed info about the Ninja Woodfire Outdoor Grill? Check out this post.

By